There's nothing quite as stressful as keeping an eye on a child in a big crowd. Whether you're in a theme park, on a crowded city street, or in a busy national park, these child safety products will give you some peace of mind.
Every child safety product listed below has been reviewed and/or personally used by me or my East Coast editor. While we do accept product advertising on Pit Stops for Kids, editorial reviews are separate and distinct. We never accept "advertorial" or pay-for-positive consumer product reviews, so you can be assured of our honest and genuine endorsement.
We used these easy stick-on child safety tats while on a vacation to Great Wolf Lodge; not only did they stay on in and out of water, but they were fun for the kids to wear. I liked that I could feel more confident about high-crowd situations, especially as they worked together to solve wand quests throughout the lodge!
  Me Finder Safety Wristband
This cool device is actually quite simple: all parents need to do is input up to five mobile phone numbers. When the child is wearing the fun wristband in public, the parent selects the number to be displayed, which kids can show a safe adult should they get separated. I like that the Me Finder comes with instructions on how to explain its use to your child, and that it's a low-technology item, which ensures it works with consistency!
 BubbleBum portable travel booster seat
Whether you're on a crowded bus, in a taxi, or on a shuttle van ride, this is a genius of a booster seat: bring it along in your carry-on or checked luggage (packed in it's own small cinch bag) while on vacation for a car seat that meets all safety regulations. The BubbleBum is also great for car pools, trips to Grandma's, taxi rides, and any time you need to fit three car seats across in the back row of a car or van.
Find more gear in the Travel Gear We Use series (click below):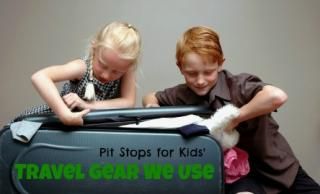 Comments
comments