For most family travel situations, I strongly advocate using a quality point-and-shoot camera so you can easily take shots on the fly (in water, on sand, where ever, whenever). However, there is a time and place for a DSLR. For today's Travel Gear We Use segment, we recommend the Sony Alpha a5000 for those trips during which once-in-a-lifetime photo opportunities will present themselves.
The part in which I admit I'm not a photographer:
It's true. I'm a writer, not a photographer. But I'm complimented frequently on my photos. I attribute my success to two things: 1. taking copious shots from all angles (and deleting most later), 2. using quality gear.
What I love about the Alpha a5000 is, you don't need to know a lot to use it. Don't be intimated by this high-end camera (that actually sells for under $500!). Just like on your point-and-shoot, it's possible to set the Alpha a5000 to one of several automatic shooting modes, and learn to adjust manually as you go. The a5000 comes with tons of scene selection options, plus apps you can add as desired. You can edit as you go (on the camera) and take video, of course.
The a5000 is mirror less, with a 16-50 mm lens. I suggest buying a second lens as well, if possible, to expand your reach, so to speak. I added the E-18-200mm to mine. Find lenses that fit here. I love the flip screen on the a5000, which allows me to find new angles without getting on the ground, and makes for easier video taping. The a5000 does give you the option of using PlayMemories Camera Apps and transferring photos instantly via WiFi, but I personally rarely use these features, preferring to edit on my computer. For fast social media sharing, my phone is still king.
Where I see the difference between my Alpha a5000 and my point-and-shoot:
long distance shots: you just can't zoom like this with a point-and-shoot!
nighttime shots: you get several scene selections that work at night
portraits: I love, love, love the a5000's soft skin effect!
Trips where the a5000 rocks: 
A cruise
A safari
Any wilderness venture during which you have time to set up shots and are reasonably sure you won't get wet
Trips on which I was glad to have my point-and-shoot:
River rafting trips
Beach trips
City touring
Backpacking
Pick one up for $449 (on sale!) at Sony, or grab the Sony Alpha a5000
on Amazon for a few bucks less.
Find more gear in the Travel Gear We Use series (click below):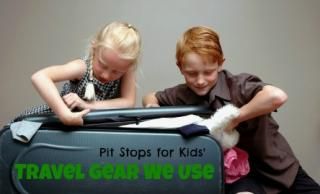 Disclosure: Pit Stops for Kids frequently tests and reviews Sony products, for the purpose of review. This partnership comes with no expectation of a positive review.